Great investing is often a case of betting on the jockey.
In the case of Starbucks, you're betting on one of the most capable executive teams in the world.
For every $1.00 Starbucks has retained, it has created $3.80 in market value for shareholders.
Today's post highlights one of my top stocks for the next 10 years… Starbucks Corporation.
Starbucks represents a textbook example. Longtime CEO Howard Schultz's vision has turned the company into a coffee giant.
1 Top Stock for 2018… and Beyond
Executives have done a great job allocating capital, for starters.
Management has to decide where to put our money. It's important because the allocation of capital, over time, determines shareholder returns.
Starbucks now generates lots of cash flow. Because it makes more money than can be reinvested in its main businesses, management has two choices: 1) return the cash to investors, and/or 2) invest the cash into new businesses.
Most people think of Starbucks as a go-go growth stock. The company's rapid expansion, however, seems to be coming to an end. With a cafe on every street corner, the list of new business opportunities looks slimmer. Our preference, therefore, would be for executives to pay out more of their profits to shareholders.
And for the most part, Starbucks has done just that. Over the past four years, management has bought back $5.5 billion of stock. During that time period, executives have more than doubled the quarterly distribution.
That trend will likely continue. In the company's most recent financial results, management acknowledged slowing returns. They also promised to return $15.0 billion to shareholders over the next three years.
Of course, investors would prefer the days of double-digit growth last forever. But given the real world constraints of diminishing returns, paying out excess profits to shareholders looks like a smart move. And as that dividend yield starts to tick higher, it could provide a new upward catalyst for shares.
"Dividends over the six-year period increased an average of 24% annually and our earnings payout ratio is now nearly 50%." Chief Financial Officer Scott Maw told analysts on a recent conference call.
"This reflects our confidence in the strength of the business and our commitment to increasing cash return to shareholders."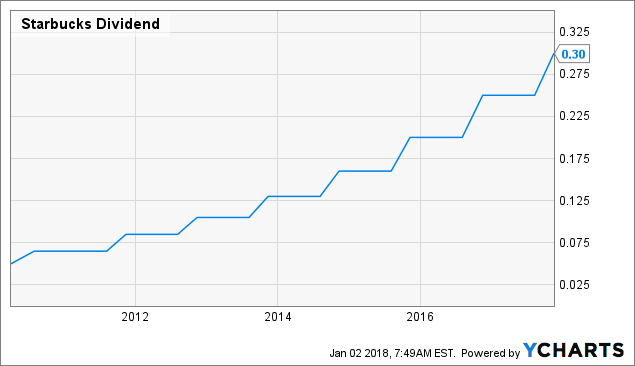 Where management has plowed money back into its business, executives have earned good returns for owners.
Most of those dollars have funded the company's growth internationally. Given the strength of the Starbucks brand abroad, new stores still do quite well.
For the most part, management has avoided the temptation to expand into unrelated businesses. Recent acquisitions – such as Princi, Evolution Fresh, and La Boulange – have supplemented the company's core operations. Management's push beyond cafes and into new channels – like airlines, hotels, and grocery stores – represent high-return, low-cost propositions.
For proof of management's great stewardship, you only need to look at the company's financial results.
Warren Buffett developed a test to evaluate management called "The One-Dollar Premise." If an executive team does a good job, each dollar of retained earnings should translate into a least one dollar of market value. Through this method, we can spot outstanding executives at a glance.
Here're the numbers from Starbucks: Between 2008 to 2017, the company generated $23.1 billion in net income. From these profits, the company paid owners $5.2 billion and retained $17.9 billion to reinvest in the company.
How have they done?
In 2008, the total market value of Starbucks stood at $10.9 billion. Since that time, the market value has grown to $78.7 billion.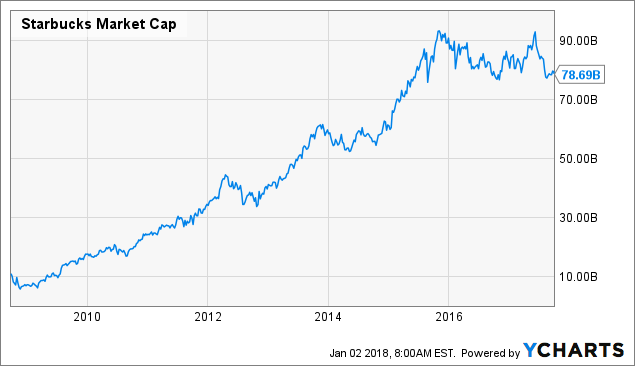 The change in market value from 2008 and 2017 was $67.8 billion. So for every $1.00 Starbucks has retained, it has created $3.80 in market value. In other words, management has done a great job allocating shareholder capital.
If I had to compare Starbuck's management team to a quarterback, they'd be the Tom Brady of business. I'm happy when a executive team can create one dollar of value for every dollar retained. These numbers stand head and shoulders above rivals.
Of course, you can't call this thesis bulletproof.
Last year, longtime CEO Howard Schultz handed over the reins to President and COO Kevin Johnson. Investors hated Schultz's resignation so much, the initial announcement sent shares of Starbucks stock plunging 10%.
That said, Johnson looks like a more than capable replacement. He has tutored under Howard Schultz for almost a decade. This has given him a solid understanding for Starbucks' strategic priorities (i.e. the focus on the customer experience).
Johnson also possess a meaningful tech background from his previous roles at Microsoft Corporation and Juniper Networks, Inc.. This could represent an edge as data become a more valuable asset in the restaurant game.
Moreover, Starbucks also enjoys one of the deepest management benches in the industry. You have:
John Culver (core retail head),
Cliff Burrows (Siren retail head),
Matt Ryan (chief strategy officer),
Michael Conway (channel development head),
Scott Maw (NASDAQ:CFO).
I'd place each of these executives at the top of their respective fields of expertise. Heck, each one could take the head honcho job themselves.
It's also worth reminding readers Schultz himself won't be going far. He's sticking around to run Starbucks' premium Roastery and Reserve stores. His presence in the boardroom will provide valuable guidance to the next generation of executives.
For these reasons, you shouldn't equate the upcoming management transition to the 2000 disaster. Starbucks learned from its mistakes the first time around. Investors should take comfort in the fact that the top brass in Seattle has more experienced than at any point in the company's history.
The Bottom Line on Starbucks
Great investing is often a case of betting on the jockey. And in the case of Starbucks, you're betting on one of the most capable executive teams in the world.
Obviously, prospective investors need to do a deeper dive into this company. But when you partner with a top management team, you'll probably do pretty well over the long haul. And for that reason alone, this could be one top dividend stock for the next 10 years.
About this article:
Expand